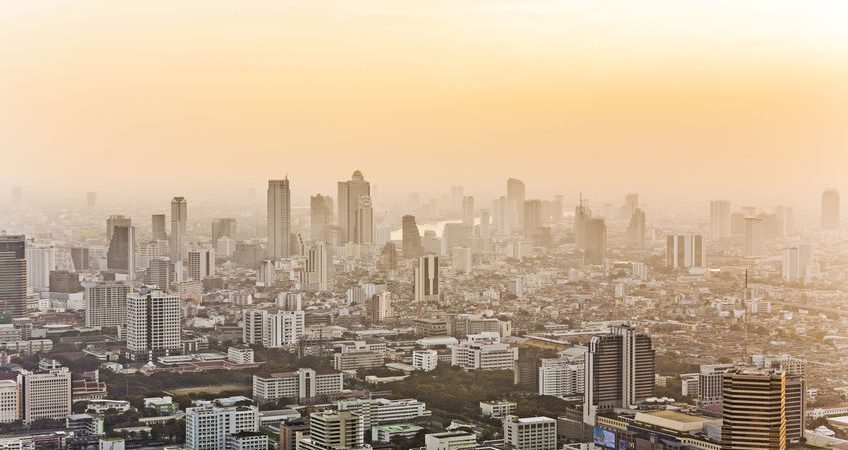 Air Quality Index PM 2.5
Chocking air pollution and thick smoke in Bangkok has adversely affected the health of many.
Hazardous dust particles known as PM 2.5 have exceeded the safe level around the capital, according to the Department of Pollution Control. PM 2.5 is a mixture of liquid droplets and solid particles that can include dust, soot and smoke, one of the main measures of the Air Quality Index (AQI). Public discontent has surfaced, and TV hosts are advising viewers on the types of face masks they should wear. These are serious concerns shared by the residents of the city who are battling the toxic air on a daily basis. Reasons for the persistent smog include combustion exhaust from Bangkok's traffic-strewn roads, the burning of fields from farmers outside the city, and pollutants from factories.
The term fine particles, or particulate matter 2.5 (PM2.5), refers to tiny particles or droplets in the air that are two and one half microns or less in width. Like inches, meters and miles, a micron is a unit of measurement for distance. There are about 25,000 microns in an inch. The widths of the larger particles in the PM2.5 size range would be about thirty times smaller than that of a human hair.
Particles in the PM2.5 size range are able to travel deeply into the respiratory tract, reaching the lungs. Exposure to fine particles can cause short-term health effects such as eye, nose, throat and lung irritation, coughing, sneezing, runny nose and shortness of breath. Exposure to fine particles can also affect lung function and worsen medical conditions such as asthma and heart disease. Scientific studies have linked increases in daily PM2.5 exposure with increased respiratory and cardiovascular hospital admissions, emergency department visits and deaths. Studies also suggest that long term exposure to fine particulate matter may be associated with increased rates of chronic bronchitis, reduced lung function and increased mortality from lung cancer and heart disease. People with breathing and heart problems, children and the elderly may be particularly sensitive to PM2.5.